As Ms. Match has shared before. She is looking for some inspiration for pre wedding pictures (for those of you not in the know, pre wedding pictures are something that every Indonesian who is getting married have to go through (Well.. maybe not HAVE to, but in the case of the bride's previous occupation as a moonlighting fashion stylist, it becomes a MUST) before the big day. Usually a couple, pre wedding day, would take some lovey dovey pictures. The pictures are usually done in a romantic setting (in most cases it would be a choice between: a. beach b. mountain c. Old town look in Jakarta Kota area-usually complete with old granma bikes and the resulting pics would have a grainy sephia toned look- get it?), with the either couples smiling idiotically at each other, lovingly looking into each others eyes, or laughing big and wide like they just won the lottery. The future Mr. Match absolutely hates those pictures. But what he does not know is that, pre wedding pictures do not have to be that nauseating. Minus all those 'main' ingredients Ms. Match mentioned, it could actually be pretty cool.
Ok.. to move on, here are some inspirations:
and this one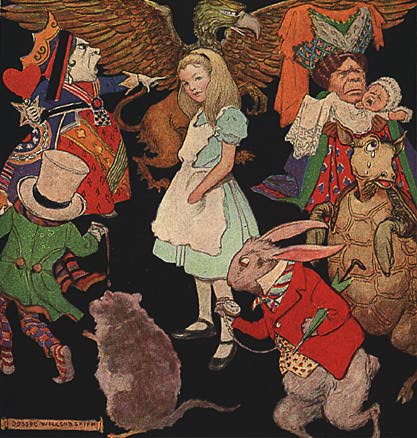 or.. this one
Whoever sees this must see that Ms. Match absolutely adores Alice in Wonderland and all other fairy tales that involve uhm well.. fairies.
And then.. while looking for inspiration for the look of the shoot, Ms. Match came across this picture. It is done by Eleanor Hardwick. A genious 15 yearold with her website here http://eleanorhardwick.com. Her pictures show similar moods. It almost made Ms. Match strangle herself. WHy oh why wasn't she that creative or gifted when she was that age????
Anyway,.... enough of the curhat colongan. Here is the inspirational picture. PS: The future Mr. Match has a very cute 5 yo son, who would be perfect to be the cheshire cat or the rabbit in a suit!
It's just perfeeeecccttt. The mood of the picture is mysterious and otherworldly with none of the usual lovey dovey romantic style lurking anywhere in the background. Plus Ms. Match's future hubby would not even have to show his face (if he chooses to be the rabbi that is. or the cat..)
Ms. Match actually started thinking along the line of fairy tales, but somehow got stuck on this Alice in Wonderland ideas. She is still looking for more inspiration though. Any help would be welcome!